Sewer Scope Inspections
WHY DO YOU NEED A SEWER SCOPE?
Problems with the main sewer pipe can cost thousands to repair and require digging deep trenches through the yard, sidewalk, and street.
The sewer line could back up into your home. Gross!
Typical line replacement = $10,000,
Typical spot repair = $3,000.
Common issues: Tree roots, collapsed pipes, clogs, improper slope, broken connection to city main pipe.
Even new homes can have problems.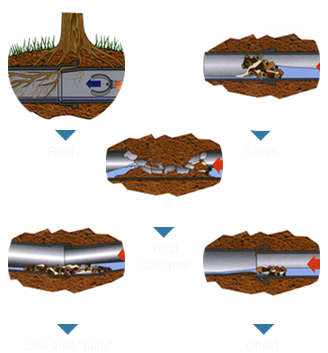 Our fiber optic scoping camera can see problems with the pipe before you buy.
Get the seller to fix it, not you!
Potential savings of $3,000 to $10,000.
OUR SERVICES
One call does it all. The scope will be done at the same time as your home inspection.
Experience – our technicians are real plumbers – have confidence in our diagnosis.
Color, fiber-optic camera with voice-over narration – see and hear results yourself without attending the inspection.
Video posted to YouTube – watch from any computer, tablet, or smartphone. You don't need to attend the inspection.
Written report – clear and easy to understand.
Flat fee – includes locates and toilet pulls.
VS – "CUT-RATE" INSPECTIONS
You have to call separately and arrange access with the home seller separately.
Limited experience and high turnover – mistakes could $cost you later, the sewer could back up, gross!
Old, cheap black and white camera equipment, without narration – mistakes could $cost you later, sewer could back up, gross!
No video recording – you can't prove the problems to the home seller.
Unclear reports-was the line "OK" or "not OK"? Will it be a problem for me later? You can't prove the problems to the home seller.
Hidden upcharges – $costs you more than quoted.

The MOST 5-STAR REVIEWS OF ANY DENVER HOME INSPECTOR
CALL FOR A QUOTE

303-730-7233